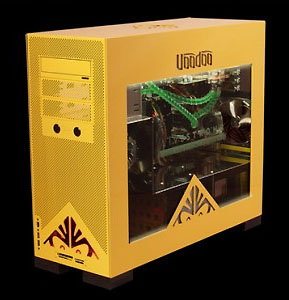 Specifications
Edit
Manufacturer
Edit
Processor
Edit
Intel Core 2 Extreme Quad-Core QX9650 3.0 Ghz
AMD Athlon 64 X2 6400+
640 MB NVIDIA GeForce 8800 GTS
768 MB NVIDIA GeForce 8800 GTX
768 MB NVIDIA GeForce 8800 ULTRA
512 MB ATI Radeon HD 2900XT
Dual 640 MB NVIDIA GeForce 8800 GTS
Dual 768 MB NVIDIA GeForce 8800 GTX
Dual 768 MB NVIDIA GeForce 8800 ULTRA
Dual 512 MB ATI Radeon HD 2900XT
Hard Drive
Edit
Four hard drive bays, each of which can be filled with any of the following:
500 GB 7,200 rpm SATA
750 GB 7,200 rpm SATA
1 TB 7,200 rpm SATA
160 GB 10,000 rpm SATA
Optical Drive
Edit
DVD±RW
Blu-ray / HD DVD Reader Combo
Blu-ray Burner / HD DVD Reader Combo
8 channel onboard
Sound Blaster X-Fi Xtreme Audio PCI Express
Sound Blaster X-Fi XtremeGamer
Operating System
Edit
Windows XP Professional
Windows Vista Home Premium
Windows Vista Ultimate
Colored CPU coolant
Illuminated mask & airbox
Ad blocker interference detected!
Wikia is a free-to-use site that makes money from advertising. We have a modified experience for viewers using ad blockers

Wikia is not accessible if you've made further modifications. Remove the custom ad blocker rule(s) and the page will load as expected.